By Sarah Gish, The Kansas City Star – Mon, Aug. 22, 2011
(..)
Port Fonda — a cross between a food truck and a mobile restaurant — has since become one of the city's hottest foodie destinations.  On Friday and Saturday nights, Ryan parks it in a lot at 20th and Main streets and starts selling $3 tacos out the window. The chef also accepts reservations from customers who want to dine at the cozy table inside Port Fonda. A four-course meal for six people costs $250.
"We started joking when we opened, telling people this is the hardest table to get in Kansas City," Ryan says.  Now that might be true: Reservations are booked through September, and Ryan won't even accept reservations for October until Sept. 1.
Port Fonda embodies planned spontaneity: It's parked at the same location every Friday and Saturday, but because it's a food truck, eating there feels spur-of-the-moment.
—————————————————–
Written By: Around the Block – June 05, 2011
Wow. What a treat. I stopped by the Port Fonda food truck last Saturday afternoon to sample chef/owner Patrick Ryan's Mexican fare, cooked to order at the truck's stove.  I had been reading for months about Ryan's project, a retrofitted airstream trailer. And this is not any old trailer. The interior is wrapped with gorgeous wood and has a chef's table to match (more on that below.)
The truck is only open on weekend nights, with the exception of Saturday afternoons when you can usually find Port Fonda in the Rieger Hotel Exchange and Grill parking lot for about a 14 hour stretch. During the day the menu is limited to a few items, but when evening comes another handful of offerings take shape in the kitchen, ranging from tacos to tortas (Mexican sandwiches.) With our ever-increasing reliance on social media, the best way to discover where the truck will be parked and what will be on the menu is to follow Port Fonda on Facebook or Twitter.
I had the great fortune of going to Port Fonda on a day when they were serving chilaquiles– tortillas layered with a tomatillo/habanero sauce and chorizo verde, and topped with a fried egg.  I'm a big fan of Frontera Grill in Chicago, and when I heard Ryan used to work there, I knew this was going to be good. Even with high expectations, it blew me away. I haven't been this excited about a dish since I first had a pizza at Pizza Bella and dreamt about it that night.
Ryan nailed the salsa. It sang with the roasted flavor of the chiles and had a marvelous kick to it. The tortillas had been softened by the sauce but weren't soggy, as tends to happen if the dish is allowed to cook too long. And the egg was perfectly cooked, its runny yolk melding with the other ingredients to complete the happiness in my mouth.  The pozole was also authentically prepared. Red chile base, chunks of hominy, topped with radish and lime. A hearty and warm soup for a chilly, dreary day.
I wanted to try a taco and the only one they were serving that day had a tripe filling. For those unfamiliar with tripe, it's part of a cow's or pig's stomach and is the main ingredient in a traditional Mexican soup called Menudo. Not a fan of Menudo, I was not overly enthused, but I ordered it anyway. It came in crisp strips and had I not been acutely aware of what I was eating, I may have mistaken it for meat. It was simply garnished, as are most street tacos, with pickled onions and just a touch of sauce. Not my favorite taco ever, but worth sampling.
Within the truck is a cozy table for 6, with a U-shaped banquette. The dining room (known as el comedor) is available by reservation only on weekend nights. Ryan is offering a 3 course meal centered around a pork shoulder and served with all the fixings to roll up in tortillas. I'm excited for that experience– based on my initial visit to Port Fonda, it should be a blast.
—————————————————-
Also see: Port Fonda, KC Magazine, Eldo Recommends, Yelp, Fonda History
More Updates: Patrick Ryan is ready to get rolling with Port Fonda in Westport (June 18, 2012)
Mexican restaurant Port Fonda now has a home in Westport (June 18, 2012)
Port Fonda Restaurant Set to Open Tuesday, June 26 (June 18, 2012)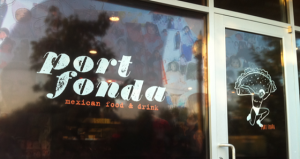 Leave a Reply
You must be logged in to post a comment.